Daysy Reviews
Our fertility tracker has already convinced many users. 
Contents:
94 percent would buy Daysy again
This survey of over 6000 Daysy users shows how they learned about Daysy, what convinced them to get Daysy and what factors they value most.
To everyone who participated in our survey, we say thank you! This year, we have once again launched a survey with Daysy users and are happy about the feedback we received from over 6000 users from a total of 40 countries. Our customer survey serves primarily as a basis for incorporating your wishes, as well as criticism, into future updates and products.
Almost 2,500 users from the English-speaking world took part in the survey: Most of the respondents were from the US  (43.6%), followed by the Netherlands (17.8%), and Israel (5.8%). Two thirds of the users (62.3%) are between 25 and 34 years old.
Exciting insights from the international community
Over 50% of participants have been using Daysy for more than one year. And 92% of all Daysy accounts remain active after one year.
83.9 percent of respondents use their Daysy daily, 12.3 percent at least 4-5 times a week (by the way: the more data Daysy has available the better for her calculations). The number of those who measure less than four times a week is very small at 3.8 percent - an indication that morning measurement can be easily integrated into everyday life, regardless of profession and lifestyle.
More than one third of the respondents (32.1%) found out about Daysy through friends. By the way, did you know that we have a program that allows you to recruit friends? You can find out more here: Refer a Friend program
95 percent said that the resources and information provided on Daysy helped them gain a solid understanding of the topic and the product, which is great to see - after all, it is our goal to provide you with as much useful information as possible about Daysy and the topic of fertility tracking so that you have a good basis for making a decision.
More information about the female cycle and many other interesting topics can be found at: Learn more
The majority of users (59.9%) made the decision to buy a Daysy together with their partner. The partner can be actively involved in the cycle monitoring at any time via the DaysyDay partner app by sharing the Daysy data with them. Of course, the same high level of data protection applies here as with the DaysyDay app.
Download DaysyDay Partner app for iOS
Download DaysyDay Parner app for Android
Over 94 percent of the users surveyed would buy Daysy again.
Three out of four women are very satisfied with Daysy: on a scale of 1 (disappointing) to 6 (very satisfied), over 70 percent of respondents rate their Daysy experience as a 5 (32.7%) or a 6 (41.1%).  Only 2.3 percent are not at least satisfied (3 or higher) with their Daysy.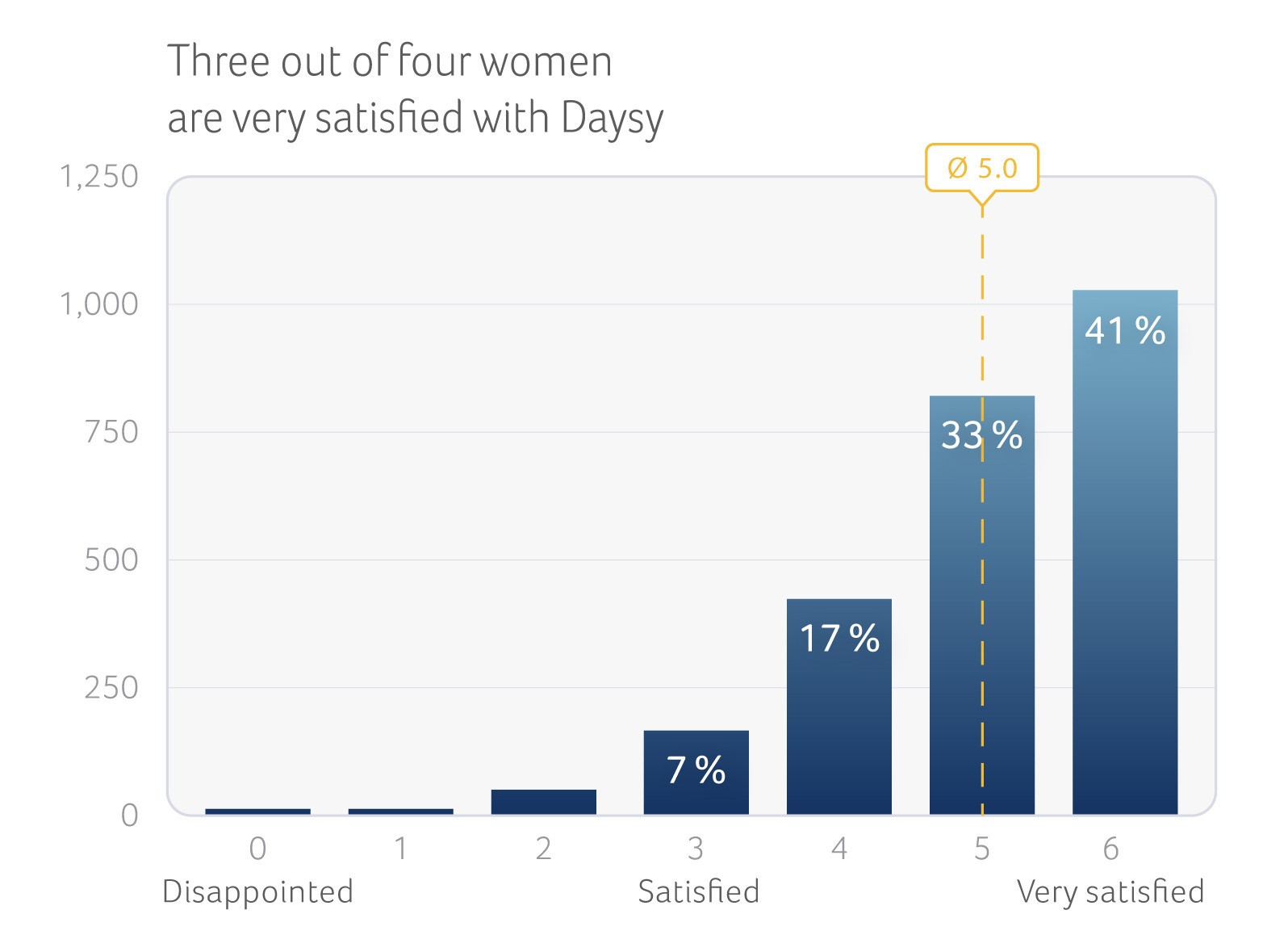 The respondents' satisfaction with the experience of the DaysyDay app is similarly positive: here, the average satisfaction is 4.8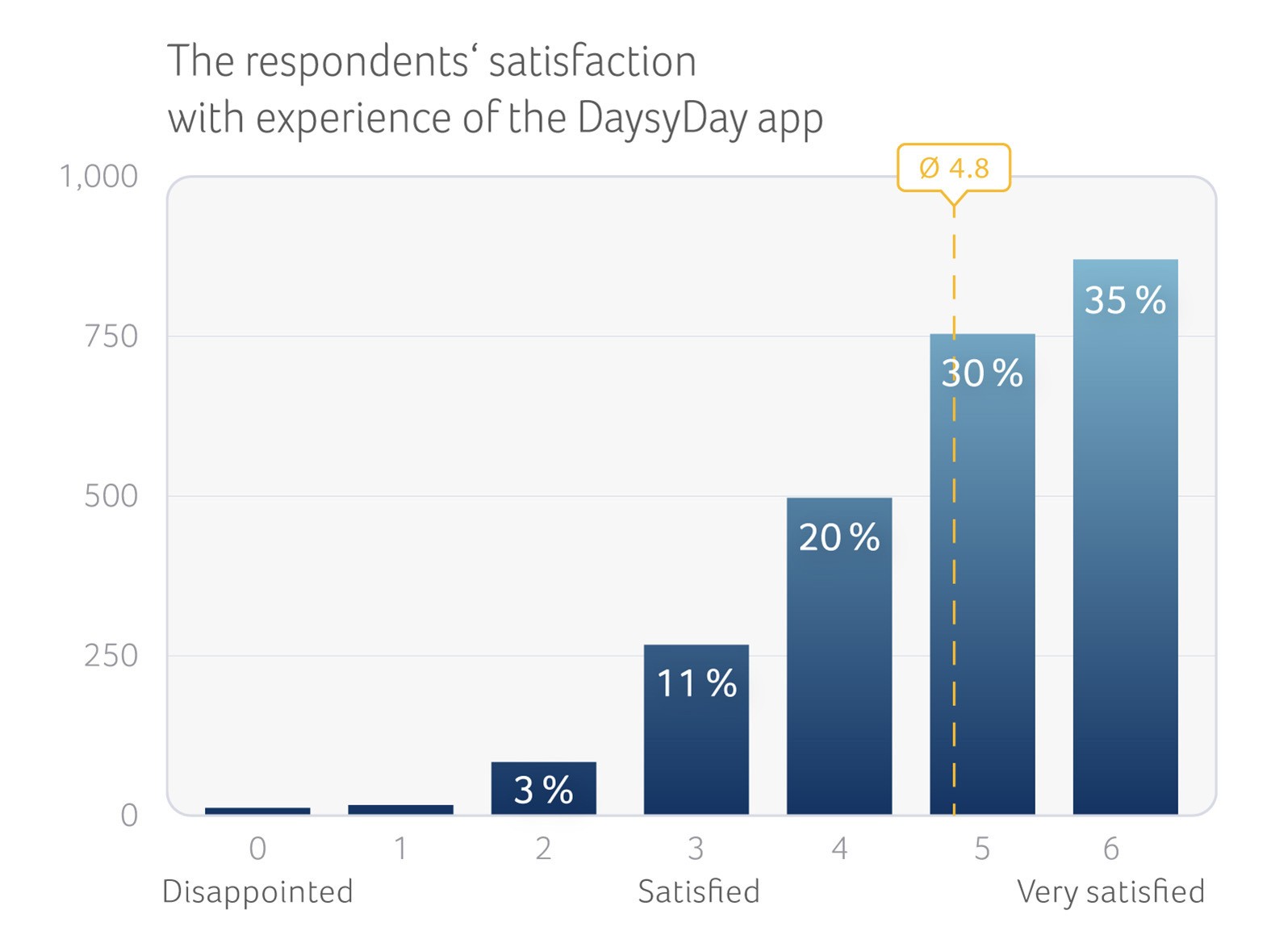 Users find the following features of the app the most helpful:
Calendar overview (69.8%)
Temperature curve (66.3%)
Prognosis (46.4%)
Intuitive, Useful, & Quality:
When asked what they associate with Daysy, 68.9 percent highlighted good investment, 62.5 percent think Daysy is easy to use, 52.8 percent praised its comprehensibility, and 42.2 percent praised the accuracy.
Customer service with a guarantee of success:
Over 93% of users who contacted customer service during their "Daysy career" were successfully helped with their request.
Customer service we are proud of:
On a scale of 1 (disappointing) to 6 (very satisfactory), over 83 percent of respondents rated their experience with Daysy as a 5 (19.9%) or a 6 (62.4%).  Only 0.1 percent were not at least satisfied (3) with customer service.
Experiences with our fertility tracker summarized
Many women tell us that our fertility tracker Daysy has changed their self-perception and thus their lives. 
Fertility tracking with the daily measurement of basal body temperature in the morning is easy and provides information directly. Knowing when ovulation occurs or when your next period is due helps you plan for childbearing, but it also helps you be prepared for menstruation. 
Recognizing which cycle phase affects us individually can take away stress. Knowing when the body needs more energy or when exercise is less efficient helps to understand the signs of our own body and to deal with them. 
The ease of use of the fertility tracker, the direct display of fertile and non-fertile days, and also the announcement of the period after getting up provides very simple information about the current cycle day.
Positive experiences from users in a nutshell: 
Simplicity and convenience: Our fertility tracker is easy to use and only require daily temperature readings and period input to display fertility status. 
Family planning: Our fertility tracker can be used for family planning by helping users determine their fertile days and optimize the timing for pregnancy.
Cost savings: Our fertility tracker can be seen as a one-time investment, and the DaysyDay app is free.
Environmental friendliness: Our fertility tracker is rechargeable and produce little waste.
There are several online platforms where users share their experiences with Daysy fertility tracker. Some popular options are:
Reviews on Amazon
Our fertility tracker is also sold on Amazon, there you can find reviews and testimonials from users.
Reviews on excellent.org
https://www.excellent.org/reviews-daysy
YouTube videos with testimonials
Forums 
There is a Facebook group as a forum where users can share their experiences and opinions.
Daysy Experience Exchange Group
Social Media channels with feedback from users
There are several social media platforms where users share experiences and opinions about our fertility tracker. 
Instagram
Facebook 
If you have had a negative experience with our fertility tracker, please send us an email.