NFP Natural Family Planning with the fertility tracker Daysy
Contraception: NFP as the safe alternative
More and more women desire natural family planning that does not interfere with their bodies. Hormonal birth control such as the pill, hormonal IUDs, hormone rods, or hormonal injections frequently have side effects that bear negative consequences on physical and psychological wellbeing. Apart from a potentially elevated risk for cancer and thrombosis, hormones primarily have effects on the mind. Many women who take hormones over a longer period of time report fatigue, mood swings, or the loss of their libido. Specifically this last effect can turn into a serious problem in a relationship.
Besides NFP, women who choose hormone-free contraception can only resort to a copper IUD, which requires a painful and invasive procedure at the gynaecologist, or the potentially disruptive use of condoms, diaphragms or sponges during intercourse. Each of these methods has disadvantages, leading many women to search for an alternative. And this alternative exists!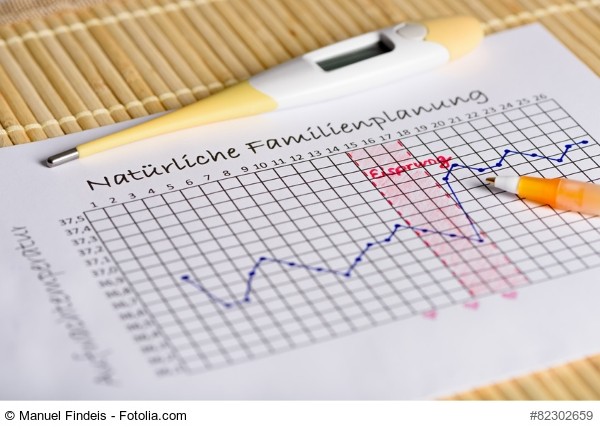 Get to know your cycle through natural family planning
If you too are among the women who no longer want to use the pill, IUDs and similar methods, and who find contraception with condoms or diaphragm bothersome, we have good news for you: Natural family planning with Daysy offers you many advantages and absolutely no disadvantages. Contraception with Daysy works in harmony with your body, entirely free of hormones, without invasive procedures and does not require you to think of using a condom every time you have sex.
The basic idea behind NFP is that you are only fertile on a few days of the month: the day of ovulation and up to five days before that. If you know precisely when you are ovulating, you can simply refrain from having sex or use a barrier method of contraception. During the remaining infertile days you cannot get pregnant and can thus have unprotected sex with your partner.
NFP: How to calculate your fertile days
Most women do not know when they are ovulating. And even if they can feel when their body is ovulating, it is already too late, because they could also have gotten pregnant during five days before that day. In order to determine when the fertile days begin, different calculations have to be made. An important clue to the timing of ovulation is the development of your morning basal temperature over the course of your cycle. The rise in your basal temperature indicates ovulation. Taking your temperature every morning and recording it in a table should give you a good overview of your individual temperature curve after approximately three months.
incl. VAT and Shipping - Product available - Delivery time: 3-5 days*
Daysy is a fertility tracker that uses the fertility awareness method by learning and tracking your menstrual cycle.
Does that strike you as complicated and rather unsafe? Because it is! In order to be safe, you additionally have to measure levels of LH-hormone in your morning urine and record and evaluate these values. As a third step, you should also examine the condition of your cervical mucus on a daily basis and record and evaluate these data as well. After three to four months of practice, the combination of these three values will give you a good indication of when to expect your ovulation.
Are you wondering where to take the time and nerve for such a complicated procedure? This is where our solution for your natural family planning comes in: Daysy. Daysy takes the workload off your shoulders and calculates your fertile days for you. Simple, quick and safe.
Daysy makes NFP (Natural family planning) fast and safe
With Daysy you can enjoy the advantages of NFP's natural family planning without complicated calculations. Just take the basal temperature under your tongue every morning before getting out of bed and let Daysy know whether you are currently on your period. Daysy then immediately displays to you whether or not you can get pregnant during the next 24 hours. Natural family planning does not get any easier than that!
Why is Daysy this simple and safe? The basis for its accuracy in determining your fertile days lies in its large database: Daysy makes its calculations based on 5 million female cycles and uses software that contains the knowledge developed from 30 years of research and studies. You can start using Daysy during any day of your cycle and do not need to wait for it to get to know you. Daysy gives you safety starting the first day. During those days that Daysy displays as fertile, you can choose whether you want to refrain from having sex or just use an additional barrier method such as a condom or a diaphragm.
Daysy combines natural family planning with easy and safe handling. Enjoy natural, self-determined contraception without side effects and get to know your body better with NFP and Daysy.
incl. VAT and Shipping - Product available - Delivery time: 3-5 days*
Daysy is a fertility tracker that uses the fertility awareness method by learning and tracking your menstrual cycle.